Arts
Feÿ is a multidisciplinary arts platform dedicated to promoting up-and-coming talent from around the world. By mixing a wide range of creative practices, the event advocates an experimental and collaborative artistic dialogue. Its programming mixes artists with backgrounds in cinema, music, publishing, visual art, performance, architecture, and gastronomy. They have all been invited to create site-specific works especially for the festival.
Arts
Feÿ est une plateforme pluridisciplinaire focalisée sur la création contemporaine française et internationale. En mélangeant différents médiums, l'événement souhaite créer un dialogue artistique et des expérimentations à plusieurs voix. La programmation rassemble des artistes venus autant du cinéma que de la musique, de l'édition, des arts plastiques ou performatifs, de l'architecture et de la gastronomie. Ils et elles ont été invité.e.s à créer des oeuvres spécialement pour le festival en s'inspirant de l'espace du château.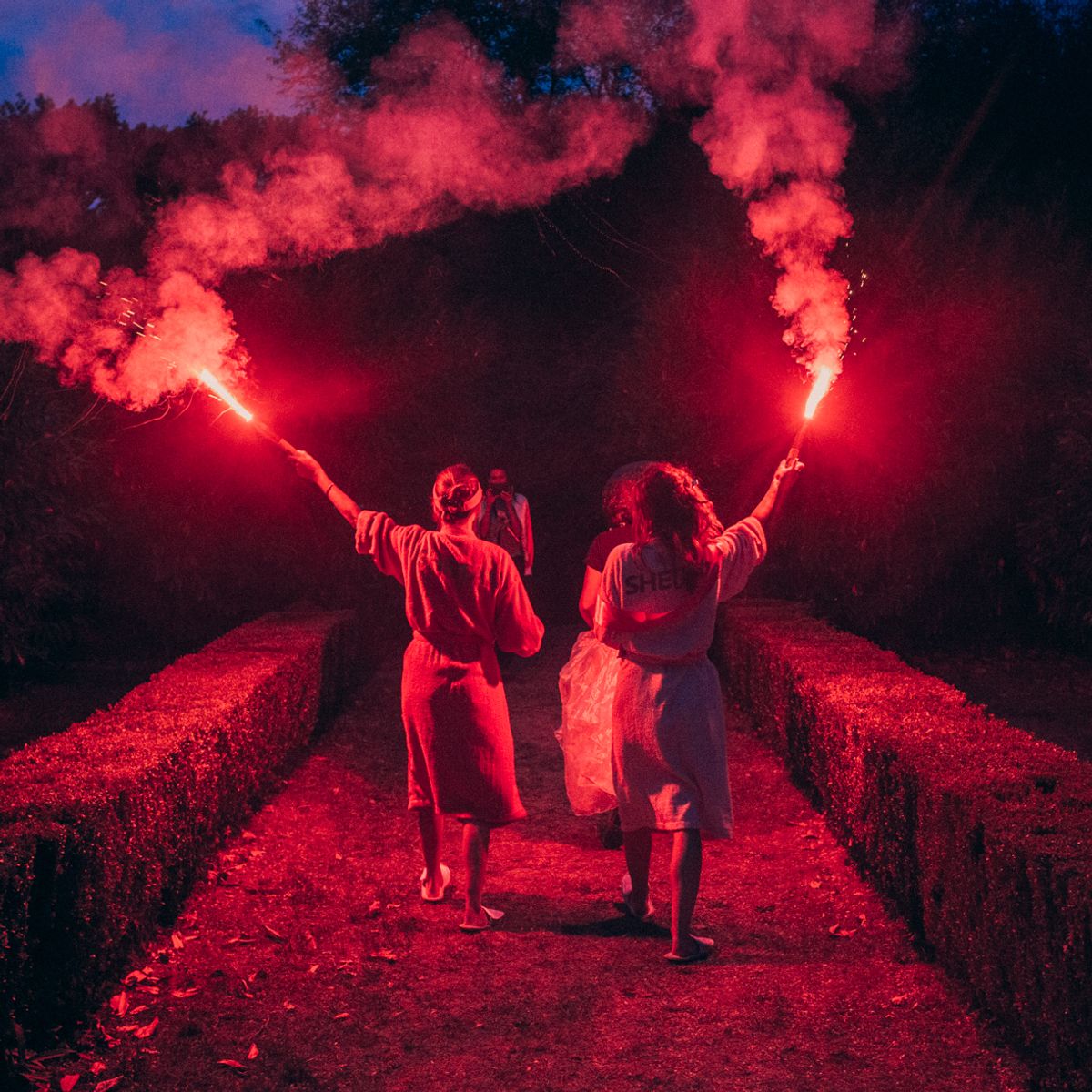 Encounters
Feÿ brings a contemporary and international art scene to Burgundy to create encounters between artists and audiences of all ages hailing from different backgrounds. All participating artists live together during the festival and are invited to share a common residency period beforehand, allowing them to discuss and spontaneously collaborate if they wish to. Some of them will conceive special pieces with local people from Villecien and several institutions in Joigny. Throughout the weekend, visitors will also be invited to take part in performances, workshops, and talks programmed around themes uniting different artists.
Rencontres
Feÿ fait voyager une scène artistique contemporaine et internationale en Bourgogne pour favoriser les rencontres entre artistes et publics de différentes provenances et de tous âges. Les artistes habitent tous ensemble sur les lieux durant le festival. En amont de l'événement, ils et elles sont invité.e.s à partager un temps de résidence en commun pour inventer, discuter et potentiellement collaborer s'ils le souhaitent. Certains créeront des oeuvres inédites avec la participation d'habitants du Jovinien et  au travers de partenariats avec des institutions locales. Tout au long du week-end, les festivaliers seront eux aussi invités à prendre part à des performances, des ateliers et un programme de discussion rassemblant les différents artistes autour de thématiques communes.
Ecology
Crafting a space for creativity and dialogue necessitates reflection upon what such an endeavor entails in terms of both symbolic and concrete impact. Feÿ Arts makes it a priority to be a green festival. Situated in a rich natural environment, the space asks visitors to be aware and respectful of their surroundings. In doing so, Feÿ Arts places ecology at the core of its value system by promoting a responsible relationship to others, to the Earth, and to the plate through the type of consumption it implements (Feÿ is a plastic-free and zero-waste event) and the pedagogical content it includes (workshops in the vegetable garden, food traceability).
Ecologie
Créer un espace pour la créativité et le dialogue implique de penser les impacts - symboliques et individuels, mais aussi collectifs et concrets - qui en découlent. Feÿ Arts a donc pour ambition première de devenir un festival « vert ». Situé dans un écosystème particulièrement riche l'événement s'inscrit tout entier dans un environnement dont il veut rendre le spectateur conscient et respectueux. Feÿ arts fait ainsi de l'écologie une de ses priorités. Le festival promeut la responsabilité à l'égard de l'autre, de la terre mais aussi de l'assiette, au travers des modes de consommation proposés (politique anti-plastique et « zero-déchet") et du discours qu'il diffuse (ateliers éducatifs dans le potager, traçabilité des produits etc.).